SEO with yoast
Yoast SEO in toujou
Search Engine Optimization for visibility and rankings
Websites are embedded in the online triumvirate of marketing, advertising, and especially SEO. Mainly SEO – short for 'Search Engine Optimization' – is of outstanding importance. And with the Yoast SEO Extension for TYPO3 the first step for Google & Co has already been taken.
---
Google & Co – not a closed book
You no longer have to slog through tutorials of the 'SEO gurus': toujou has a kind of 'built-in SEO' for the on-page optimization. Every single page is already structured for being optimally indexed. In this context, the Google search will be the measure of all things.
---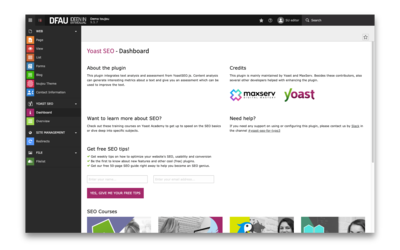 Jump-start for clicks
HTML code according to the latest standards, simple instructions for 'speaking URLs' as well as proper redirects and links are basics in toujou. Plus Yoast SEO, one of the most widely known SEO tools.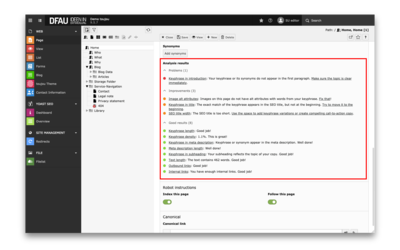 Yoast gives you the green light
The 'granddaddy' of all SEO plugins might be one of the most commonly used SEO tools along with Google's Search Console: easy to use with its traffic light system and, due to its settings, an essential instrument for SEO professionals. Yoast helps creating keywords, snippets and meta descriptions and checks the SEO suitability of every page on the fly. Its analysis helps you also to optimize the readability and the quality of text.
Beware: SEO tools have their limits
Because SEO is an ongoing process that never ends. Which means: Collecting high ranking keywords simply won't do. You and your editors better make sure that you offer good and meaningful content regularly and treat neglected subpages to a semantic update from time to time. Finally, not only Google will honour your constant efforts, but your readers especially. They are the ones who should be entertained by your content and informed about your products.
---