Data protection settings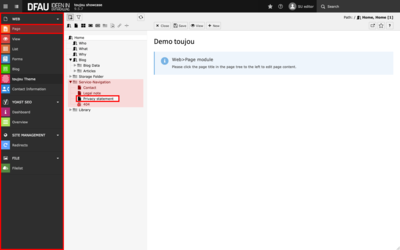 Service navigation
Click on the »Page« module to get to your page tree.
The Service Navigation folder contains three pre-configured service pages: Contact, Legal note, Privacy statement (these are automatically displayed in the footer navigation).
By mouse-over on the page icon of the »Privacy statement« page, you will see the ID number »12«. In every toujou installation this number is assigned by default for data protection content. This information is relevant to the setup shown below.
By clicking on the »Privacy statement« page you will find predefined text elements in the page content that represent the toujou standard privacy text. If you don't have your own privacy statement ready, just exchange the visible placeholders »YOUR COMPANY«.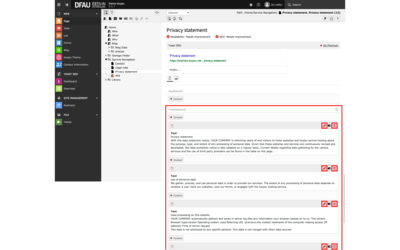 Privacy statement text
It is recommended to keep the »ID = 12« subpage for the presentation of a privacy policy, since further settings depend on the ID number of this subpage. This results in two possibilities.

NO INDIVIDUAL PRIVACY POLICY TEXT: If you do not hold an individual privacy statement, please replace the placeholders with your individual details. To do this, please click on the pencil icon to edit the individual elements.
YOUR OWN DATA PROTECTION TEXT FOR THE ID=12 PAGE: Simply delete the provided text elements by clicking on the trash can icon on the right side of the elements and insert your own text (see toujou text elements description).

You are free to create a new privacy page. In this case, please note the ID number of the subpage (by mouseover on the page icon) and make a note of it. However, it is recommended to sort the page within the Service Navigation folder.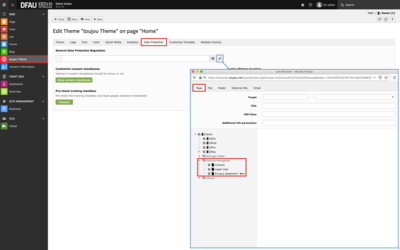 Link to privacy statement
You will only process this step in case you have set-up a new privacy policy content page that does NOT have the pre-configured content page ID=12.
Click on the »toujou Theme« module to get to the Data Protection tab.
General Data Protection Regulation: Here you see the current link to your privacy policy.
Alternatively: With the Link button further on the right you put the link onto the correct subpage. For this purpose, an external window (Link Browser) opens. In your page tree, select the page you have set-up for your website's privacy policy.
The link is set automatically by clicking on the desired page. Then click on the Save button above the workspace.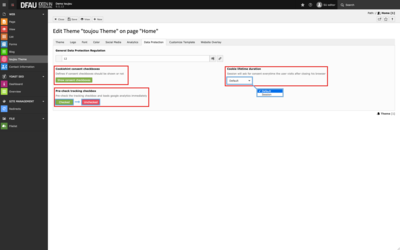 Cookie settings
Follow this path if you have entered a Google Analytics ID in the previous Analytics Settings.
Cookiehint conset checkbox: Here you can specify that visitors will see the sentence »Allow anonymous tracking« at the bottom of the cookie hint window and a checkbox to the right to accept or reject (Show consent checkboxes = green).
Pre-check tracking checkbox: Here you can specify whether the above-mentioned box is to be displayed to visitors with a check mark (Checked = green) or whether this consent is to be given actively (Unchecked = red).
Cookie lifetime duration: Choose between Default oder Session.

Default: Cookies are always active unless they are deleted. This data can also be collected as personal data.
Session: When the browser is closed, cookies are also deleted. No personalized data is stored.
No Google Analytics ID?
If you don't use Google Analytics, you don't need to work on this setup. Any necessary cookies, such as the storage of an optional age restriction, are automatically implemented by the system.
On the benefits and consequences of collecting personal data with cookies, you will find more information in a detailed blog post on cookie handling in toujou.
---
With the privacy policy or the link on it, you manage a particularly important content page. Once set, you can link to it from anywhere on your website. Take enough time to formulate your guidelines. For template policy statements we recommend extensive research on GDPR.